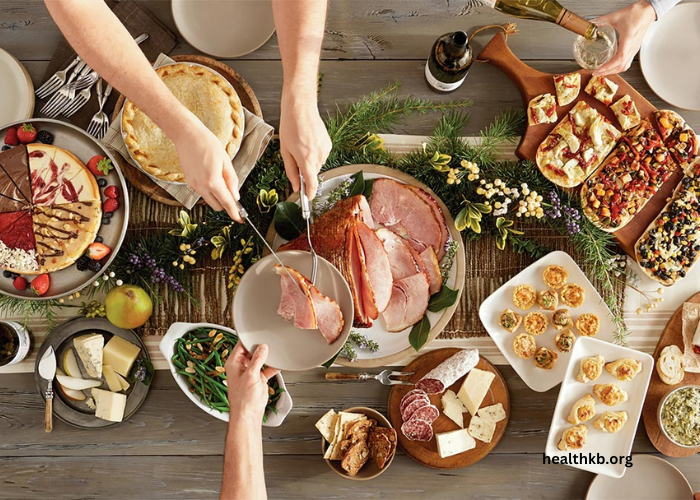 The holiday season is a time of joy, celebration, and, of course, delicious food. Whether you're hosting a Thanksgiving gathering, a Christmas dinner, or any other special occasion, cooking a memorable holiday feast can be a rewarding and heartwarming experience. In this article, we'll explore how to plan, prepare, and execute a festive meal that will leave your loved ones impressed and satisfied.
Planning Your Holiday Feast
Selecting the Menu
Put on your half apron chefs! The first step in creating a memorable holiday feast is deciding on the menu. Consider your guests' dietary preferences and any dietary restrictions they may have. Traditional holiday dishes like roast turkey, glazed ham, or vegetarian alternatives can serve as the centerpiece. Complement the main course with a variety of side dishes, such as stuffing, mashed potatoes, roasted vegetables, and cranberry sauce. Don't forget about appetizers, desserts, and beverages to round out the meal.
Making a Timeline
Planning a holiday feast can be overwhelming, so it's essential to create a timeline. Determine when you'll start cooking and when each dish needs to go into the oven or be prepared. Consider which dishes can be made ahead of time and reheated to minimize stress on the big day.
Preparing the Feast
Organizing Your Kitchen
Before you begin cooking, make sure your kitchen is organized and well-equipped. Check that you have all the necessary ingredients, cooking utensils, and serving dishes. Clear clutter from countertops to create ample workspace.
Enlisting Help
Cooking for a special occasion is a significant undertaking, so don't hesitate to enlist the help of family members or friends. Assign tasks to others to ensure a smooth and enjoyable cooking experience. It's an excellent opportunity to bond and share the joy of cooking together.
Executing the Meal
Cooking the Main Course
The centerpiece of many holiday feasts is the main course. If you're roasting a turkey, ensure it's properly thawed, seasoned, and cooked to perfection. If ham is your choice, glaze it to add a flavorful touch. Vegetarian options like stuffed acorn squash or a hearty nut roast can cater to all dietary preferences.
Side Dishes and Accompaniments
Side dishes are the unsung heroes of holiday feasts. Prepare classics like creamy mashed potatoes, homemade stuffing, and roasted Brussels sprouts. Don't forget the gravy and cranberry sauce! These complementary dishes elevate the meal and satisfy everyone's cravings.
Desserts to Delight
No holiday feast is complete without a selection of delightful desserts. Traditional pies, such as pumpkin, pecan, or apple, are perennial favorites. If you're feeling adventurous, try your hand at creating a beautiful yule log or a festive fruitcake. Remember to offer coffee, tea, or a selection of seasonal cocktails to accompany dessert.
Presentation and Serving
Setting the Table
Creating an inviting and festive table setting adds to the overall ambiance of your holiday feast. Use elegant tableware, candles, and seasonal decorations to set the mood. Personalized place cards and thoughtful touches like festive napkin rings can make your guests feel special.
Serving with Grace
When it's time to serve the meal, do so with grace and generosity. Offer seconds and thirds, encourage guests to savor each dish, and take time to share the stories and traditions behind the food you've prepared. A warm and welcoming atmosphere is just as important as the culinary delights.
Dessert Presentation
Presenting desserts can be a grand finale to your holiday feast. Consider a dedicated dessert table with a variety of sweet treats. Decorate it with a festive tablecloth and a centerpiece to showcase your desserts. Offer a selection of dessert plates and utensils for guests to help themselves.
Celebrate and Enjoy
As the host or hostess, it's easy to get caught up in the details, but remember to take a moment to celebrate and enjoy the feast you've created. Share the joy of good food, laughter, and cherished moments with your loved ones. After all, the most memorable holiday feasts are not just about the dishes but the cherished memories they create.
The Importance of Celebrating the Moment
Amidst the hustle and bustle of preparing and serving the holiday feast, it's crucial to pause and celebrate the moment. Gather around the table with your guests, raise a toast to the occasion, and express gratitude for the time spent together. These shared moments are what make the holidays truly special.
Fostering Cherished Memories with Loved Ones
Holiday feasts are not only an opportunity to indulge in delicious food but also a chance to connect with family and friends. Encourage meaningful conversations, share stories, and create lasting memories around the dining table. These moments of togetherness are the heart of any festive celebration.
Emphasizing the Joy of Good Food and Laughter
While the food is undoubtedly a highlight of any holiday feast, it's the laughter, camaraderie, and shared experiences that make the occasion memorable. Savor the flavors, enjoy the laughter, and relish the pleasure of creating a warm and inviting atmosphere for your guests.
In conclusion, cooking a memorable holiday feast is a labor of love that brings friends and family together. With careful planning, preparation, and a dash of creativity, you can create a festive meal that becomes a cherished tradition for years to come. So, roll up your sleeves, don your apron, and get ready to make this holiday season a culinary celebration to remember.
Remember that the heart of any holiday feast lies in the joy it brings to those gathered around the table. The effort you put into planning and cooking is an expression of love, and the memories you create will be cherished for generations to come. May your holiday feasts be filled with warmth, laughter, and the delight of good food shared with loved ones.